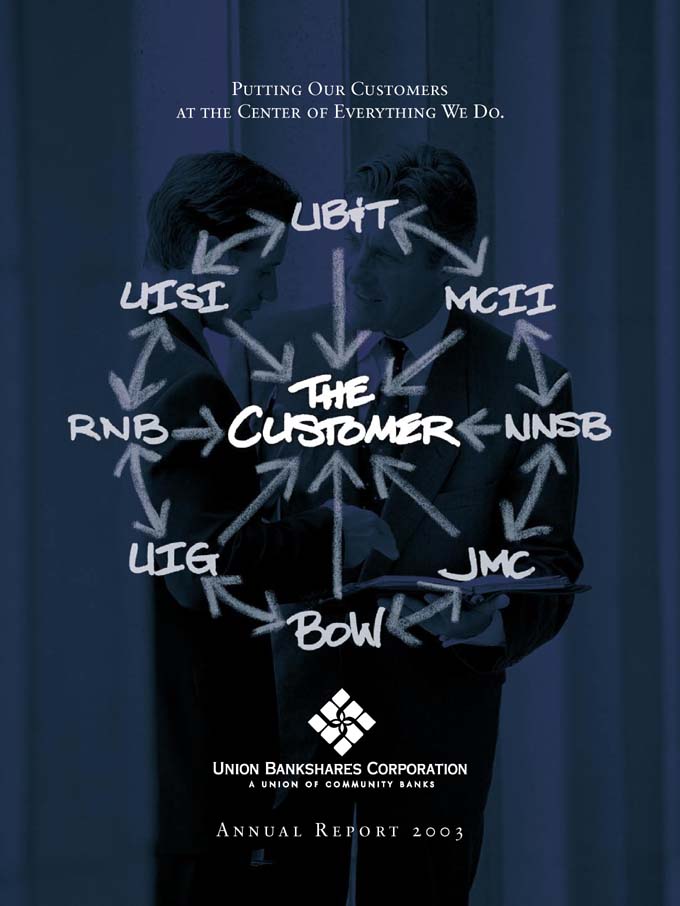 Putting Our Customers at the Center of Everything We Do.
Annual Report 2003
---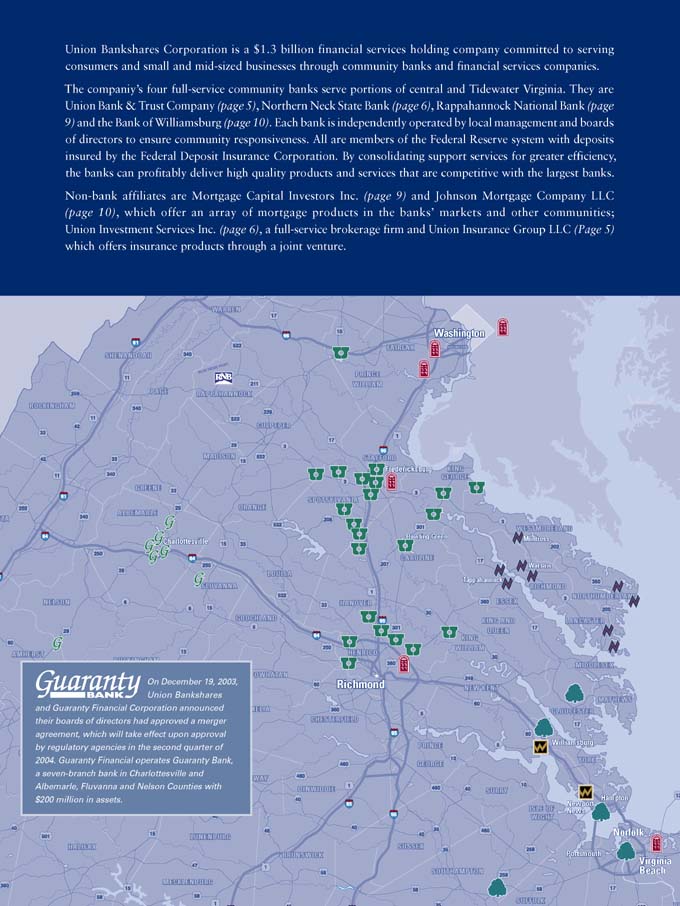 Union Bankshares Corporation is a $1.3 billion financial services holding company comitted to serving consumers and small and mid-sized businesses throygh community banks and financial services companies.
The company's four full-service community banks serve portions of central and Tidewater Virginia. They are Union Bank & Trust (page 5), Northern Neck State Bank (page 6) Rappahannock National Bank (page 9) and the Bank of Williamsburg (page 10). Each bank is independently operated by local managemnet and Boards of directors to ensure community responsiveness. All are members of the Federal Reserve system with deposits insured by the Federal Deposit Insurance Corporation. By consolidating support services for greater efficiency, the banks can profitably deliver high quality products and services that are competitive with the largest banks.
Non-bank affiliates are Mortgage Capital Investors Inc. (page 9) and Johnson Mortgage Company LLC (page 10), which offer an array of mortgage products in the banks' markets and other communities; Union Investment Services Inc. (page 6) , a full-service brokerage firm and Union Insurance Group LLC (Page 5) which offers insurance products through a joint venture.
On December 19, 2003, Union Bankshares and Guaranty Financial Corporation announced their boards of directors agreement, which will take effect upon approval by regulatory agencies in the second quarter of 2004. Guaranty Financial operates Guaranty Bank, a seven-branch bank in Albemarle, Fluvanna and Nelson Counties with $200 million in assets.
---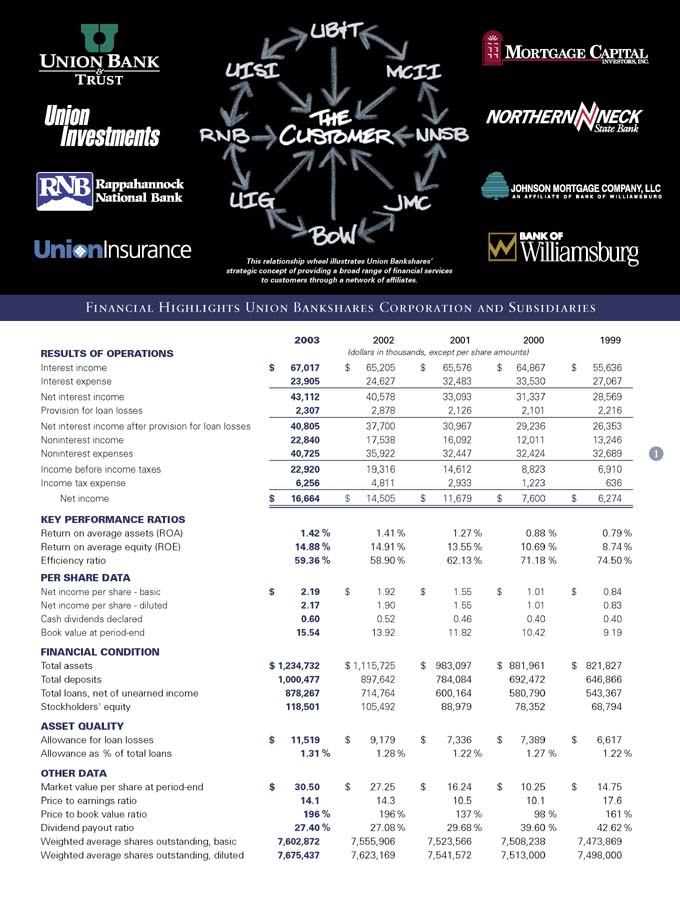 This relationship wheel illustrates Uion Bankshares' strategic concept of providing a broad range of financial services to customers through a network of affiliates.
Financial Highlights Union Bankshares Corpoartion and Subsidiaries
2003 2002 2001 2000 1999
RESULTS OF OPERATIONS (dollars in thousands, except per
Interest income $67,017 $65,205 $65,576 $64,867 $55,636
Interest expense 23,905 24,627 32,483 33,530 27,067
Net interest income 43,112 40,578 33,093 31,337 28,569
Provision for loan losses 2,307 2,878 2,126 2,101 2,216
Net interest income after provision for Loan losses 40,805 37,700 30,967 29,236 26,353
Noninterest income 22,840 17,538 16,092 12,011 13,246
Noninterest expenses 40,725 35,922 32,447 32,424 32,689
Income before income taxes 22,920 19,316 14,612 8,823 6,910
Income tax expense 6,256 4,811 2,933 1,223 636
Net income $16,664 $14,505 $11,679 $7,600 $6,274
KEY PERFORMANCE RATIOS
Return on average assets (ROA) 1.42% 1.41 % 1.27 % 0.88 % 0.79%
Return on average equity (ROE) 14.88 % 14.91 % 13.55 % 10.69% 8.74%
Efficiency ratio 59.36 % 58.90 % 62.13 % 71.18% 74.50%
PER SHARE DATA
Net income per share—basic $ 2.19 $1.92 $1.55 $1.01 $0.84
Net income per share—diluted 2.17 1.90 1.55 1.01 0.83
Cash dividends declared 0.60 0.52 0.46 0.40 0.40
Book value at period-end 15.54 13.92 11.82 10.42 9.19
FINANCIAL CONDITION
Total assets $1,234,732 $1,115,725 $983,097 $881,961 $821,827
Total deposits 1,000,477 897,642 784,084 692,472 646,866
Total loans, net of unearned income 878,267 714,764 600,164 580,790 543,367
Stockholders' equity 118,501 105,492 88,979 78,352 68,794
ASSET QUALITY
Allowance for loan losses $ 11,519 $9,179 $7,336 $7,389 $6,617
Allowance as % of total loans 1.31 % 1.28 % 1.22 % 1.27% 1.22%
OTHER DATA
Market value per share at period-end $ 30.50 $ 27.25 $16.24 $10.25 $14.75
Price to earnings ratio 14.1 14.3 10.5 10.1 17.6
Price to book value ratio 196 % 196 % 137 % 98 % 161%
Dividend payout ratio 27.40 % 27.08 % 29.68 % 39.60% 42.62%
Weighted average shares outstanding, basic 7,602,872 7,555,906 7,523,566 7,508,238 7,473,869
Weighted average shares outstanding, diluted 7,675,437 7,623,169 7,541,572 7,513,000 7,498,000
1
---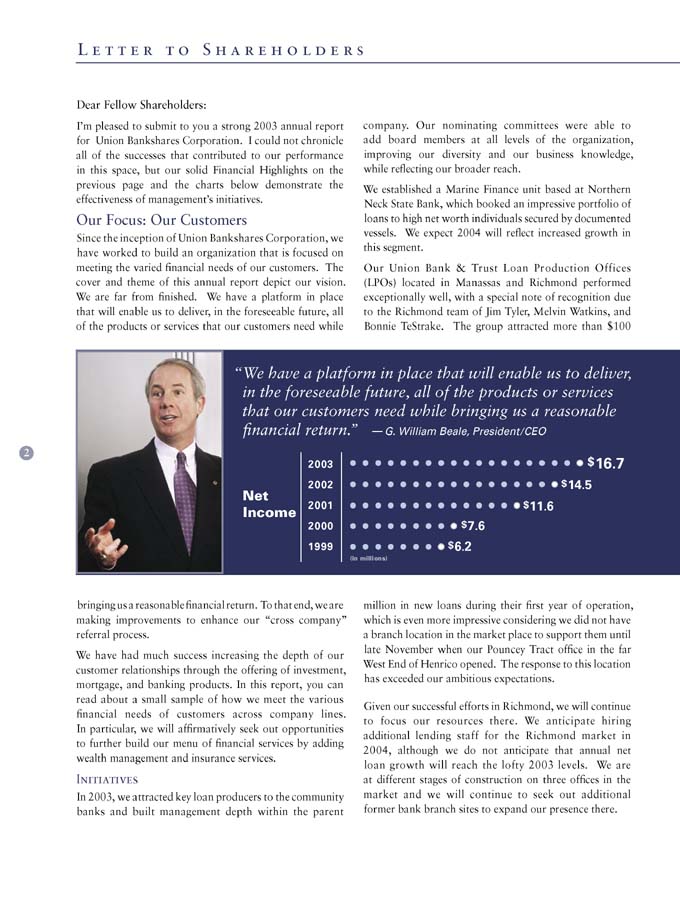 Letter to Shareholders
Dear Fellow Shareholders:
I'm pleased to submit to you a strong 2003 annual report for Union Bankshares Corporation. I could not chronicle all of the successes that contributed to our performance in this space, but our solid financial highlights on the previous page and the charts below demonstrate the effectiveness of management's initiatives.
Our Focus: Our Customers
Since the inception of union Bankshares Corporation, we have worked to build an organization that is focused on meeting the varied financial needs of our customers. The cover and theme of this annual report depict our vision. We are far from finished. We have a platform in place that will enable us to deliver, in theforeseeable future, all of the products or services that our customers need while bringing us a reasonable financial return. To that end, we are making improvements to enhance our "cross company" referral process.
We have had much success increasing the depth of our customer relationships through the offering of investment, mortgage, and banking products. In this report, you read about a small sample of how we meet the various financial needs of customers across the company lines. In particular, we will affirmatively seek out opportunities to further build our menu of financial services by adding wealth management and insurance services.
Initiatives
In 2003, we attracted key loan producers to the community banks and built management depth with the parent company. Our nominating committees were able to add board members at all levels of the organization, improving our diversity and our business knowledge, while reflecting our broader reach.
We established a Marine Finance unit based at Northern Neck State Bank, which booked an impressive portfolio of loans to high net worth individuals secured by documented vessels. We expect 2004 will reflect increased growth in this segment.
Our Union Bank & Trust loan Production Offices (LPOs) located in Manassas and Richmond performed exceptionally well, with a special note of recognition due to the Richmond team of Jim Tyler, Melvin watkins and Bonnie TeStrake. The group attracted more than $100 million in new loans during their first year of operation, which is even more impressive considering we did not have a branch location in the market place to support them until late November when our Pouncey Tract office in the far West End of Henrico opened. The response to this location has exceeded our ambitious expectations.
Given our successful efforts in Richmond, we will continue to focus our resources there. We anticipate hiring additional lending staff for the Richmond market in 2004, although we do not anticipate that annual net loan growth will reach the lofty 2003 levels. We are at different stages of constuction on three offices in the market and we will continue to seek out additional former bank branch sites to expand our presence there.
"We have a platform in place that will enable us to deliver, in theforeseeable future, all of the products or services that our customers need while bringing us a reasonable financial return ." — G. William Beale, President/CEO
Net Income
(in millions)
2003 $ 16.7
2002 $ 14.5
2001 $ 11.6
2000 $ 7.6
1999 $ 6.2
2
---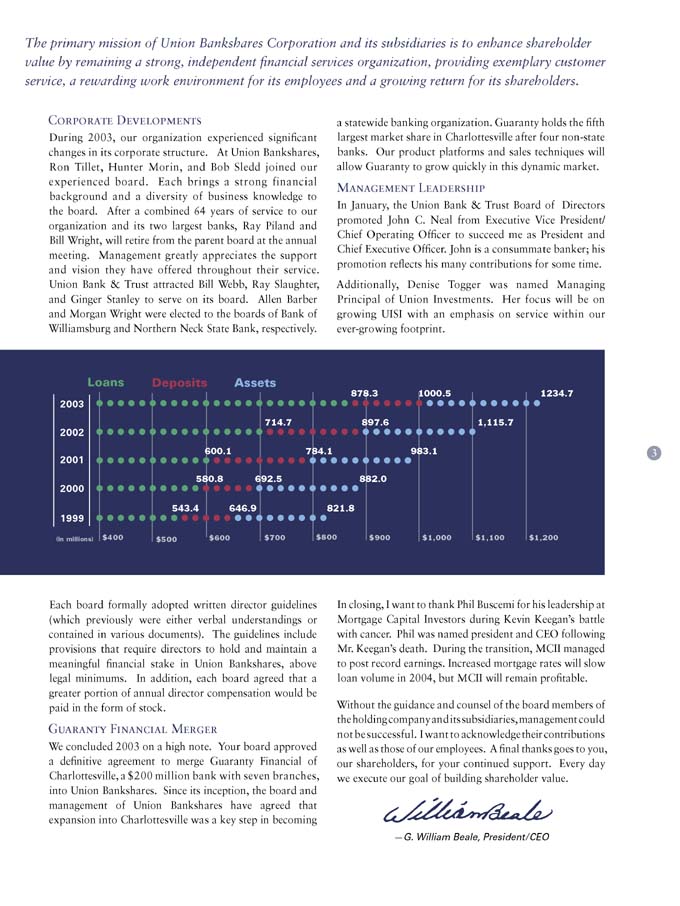 The primary mission of Union Bankshares Corporation and its subsidiaries is to enhance shareholder value by remaining a strong, independent financial services organization, providing exemplary customer service, a rewarding work environment for its employees and a growing return for its shareholders.
Corporate Developments
During 2003, our organization experienced significant changes in its corporate structure. At Union Bankshares Ron Tillet, Hunter Morin, experienced board. Each brings a strong financial background and a diversity of business knowledge to the board. After a combined 64 years of service to our organization and its two largest banks, Ray Piland and Bill Wright, will retire from the parent board of the annual meeting. Management greatly appreciates the support and vision they have offered throughout their service. Union Bank & Trust attracted Bill Wright Ray Slaughter and Ginger Stanley to serve on its board. Allen Barber and Morgan Wright were elected to the boards of Bank of Williamsburg and Northern Neck State Bank, respectively.
Each board formally adopted written director guidelines (which previously were either verbal understandings or contained in various documents). The guidelines include provisions that require directors to hold and maintain a meaningful financial stake in Union Bankshares above legal minimums. In addition, each board agreed that a greater portion of annual director compensation will be paid in the form of stock.
Guaranty Financial Merger
We concluded 2003 on a high note. Your board approved a definitive agreement to merge Guaranty Financial of Charlottesville, a $200 million bank with seven branches, into Union Bankshares. Since its inception, the board and management of Union expansion into Charlottesville was a key step in becoming a statewide banking organization. Guaranty holds the fifth largest market share in Charlottesville after four non-state banks. Our product platforms and sales technique allow Guaranty to grow quickly in this dynamic market.
Management Leadership
In January, the Union Bank & Trust Board of Directors promoted John C. Neal from Executive Vice
President/ Chief Operating Officer to succeed me as president and Chief Executive Officer. John is a consummate banker; his promotion reflects his many contributions for some time.
Additionally, DeniseS Togger was named managing principal of Union investments. Her focus will be on growing UISI with an emphasis on service within our ever-growing footprint.
In closing, I want to thank Phil Bascemi for his leadership at Mortgage Capital Investors during Kevin Keegan's battle with cancer. During the Transition, MCII managed to post record earnings. Increased mortgage rates will slow loan volume in 2004, but MCII will remain profitable.
Without the guidance and counsel of the board members of the holding company and its subsidiaries, management could not be successful. I want to acknowledge their contributions as well as those of our employees. Afinal thanks goes to you, our shareholders, for your continued support. Every day we execute our goal of building shareholder value.
G. William Beale, President/CEO
(in millions) Loans Deposits Assets
2003 878.3 1000.5 1234.7
2002 714.7 897.6 1,115.7
2001 600.1 784.1 983.1
2000 580.8 692.5 882.0
1999 543.4 646.9 821.8
3
---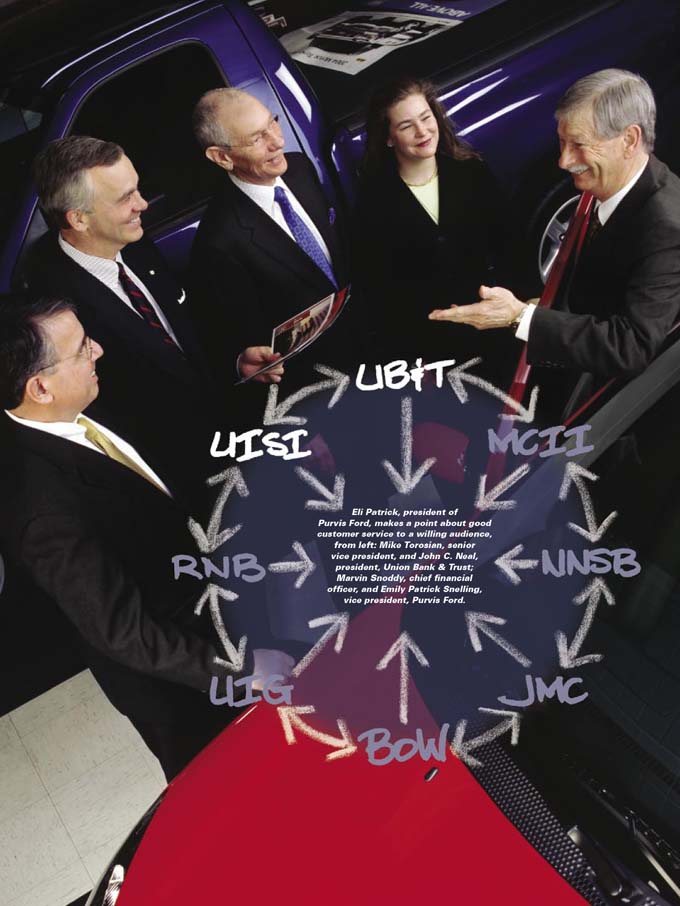 Eli Patrick, president of Purvis Ford, makes a point about good customer service to a willing audience, from left: Mike Torosian, senior vice president, and John C. Neal, president, Union Bank & Trust; Marvin Snoddy, chief financial officer, and Emily Patrick Snelling, vice president, Purvis Ford
---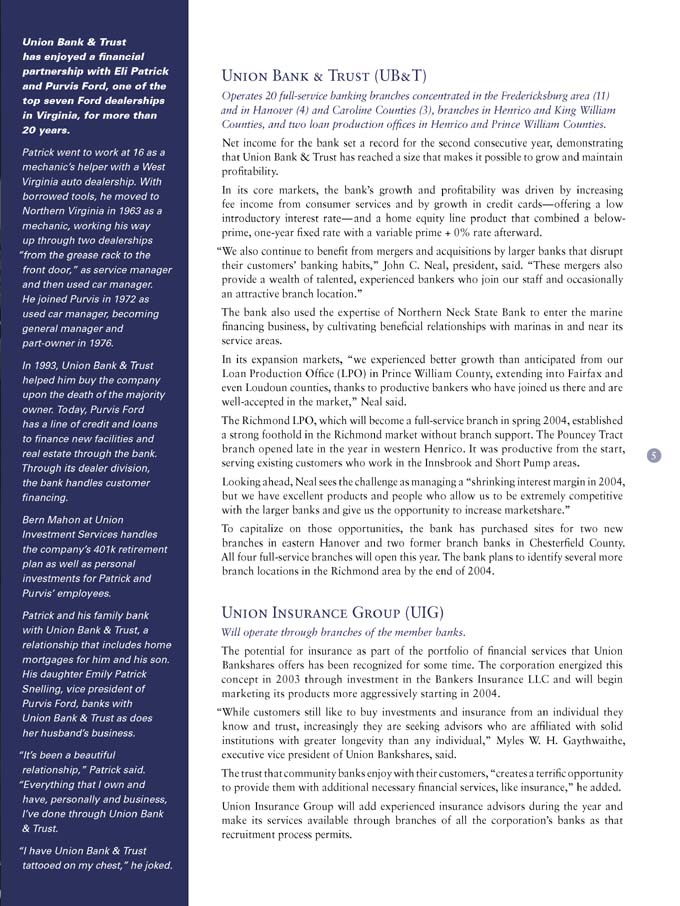 Union Bank & Trust has enjoyed a partnership with and Eli patrick and Purvis Ford, one of the top seven Ford dealerships in Virginia, for more than 20 years.
Patrick went to work at 16 as a mechanic's helper with a West Virginia auto dealer ship. With borrowed tools, he moved to Northern Virginia in 1963 as a mechanic, working his way up through two dealerships "from the grease rack to the front door," as service manager and then used car manager. He joined Purvis in 1972 as used car manager, becoming general manager and part-owner in 1976.
In 1993, Union Bank & trust helped him buy the company upon the death of the majority owner. Today, Purvis Ford has a line of credit and loans to finance new real estate through the bank. Through its the dealer division, the bank handles customer financing.
Bern Mahon at Union Investment Services handles the company's 401k retirement plan as well as personal investments for Patrick Purvis' employees.
Patrick and his family bank with Union Bank relationship mortgages for His daughter Snelling, vice Purvis Ford, Union Bank & Trust a, relationship that includes home mortgages for him and his son. His daughter Emily Patrick Sneling, vice president of Purvis Ford, banks with Union Bank & Trust as he does her husband's business.
"It's been a beautiful relationship," Patrick "Everything that I own and have, personally and business, I've done through Union Bank & Trust. "
"I have Union Bank & Trust tattooed on my chest," he joked.
Union Bank & Trust (UB&T)
Operates 20 full-service banking branches concentrated in the Fredricksburg area (11) and in Hanover (4) and Caroline Counties (3), branches in Henrico and King William Counties, and two loan production offices in Henrico and Prince William Counties.
Net income for the bank set a record FOR THE SECOND CONSECUTIVE YEAR, DEmonstrating that Union Bank & Trust has reached a size that makes it possible to grow and maintain profitability.
In its core markets, the bank's growth and profitability was driven by increasing fee income from consumer services and by growth in credit cards – offering a low introductory interest rate — and a home equity line product that combined a below- prime, one-year fixed rate with a variable prime + 0% rate afterward.
"We also continue to benefit from mergers and acquisitions by larger banks that disrupt their customers' banking habits," John C. Neal, president, said. "These mergers also provide a wealth of talented, experienced bankers who join our staff and ocasionally an attractive branch location."
The bank also used the expertise of Northern Neck State Bank to enter the marine financing business, by cultivating beneficial relationships with marinas in and near its service areas.
In its expansion markets, "we experienced better growth than anticipated from our Loan Production Office (LPO) in Prince William County, extending into Fairfax and even Loudoun counties, thanks to productive bankers who have goned us there and are well-accepted in the market," Neal said.
The Richmond LPO, which will become a full-service branch in spring 2004, established a strong foothold in the Richmond market without branch support. The pouncey tract branch opened late in the year in western Henrico. It was productive from the start, serving existing customers who work in the Innsbrook and Short Pump areas.
Looking ahead, Neal sees the challenge as managing a "shrinking interest margin in 2004, but we have excellent products and people who allow us to be extremely competitive with the larger banks and give us the opportunity to increase marketshare."
To capitalize on those opportunities, the bank has purchased sites for two new branches in eastern Hanover and two former branch banks in chesterfield County. All four full-service branches will open this year. The bank plans to identify several more branch locations in the Richmond area by the end of 2004.
Union InsuranceGroup (UIG)
Will operate through branches of the member banks.
The potential for insurance as part of the portfolio of financial services that Union Bankshares offers has been recognized for some time. The corporation energized this concept in 2003 through investment in the bankers insurance llc and will begin marketing its products more aggressively starting in 2004.
"While customers still like to buy investments and insurance from an individual they know and trust, increasingly they are seeking advisors who are affiliated with solid institutions with greater longevity than an individual" Myles W. H. Gaythwaithe, executive vice president of Union Bankshares, said.
The trust that community banks enjoy with their customers, "creates a terrific apportunity to provide them with additional necessary financial services, like insurance," he added.
Union Insurance Group will add experienced insurance advisors during the year and make its services available through branches of all the corporation's banks as that recruitment process permits.
5
---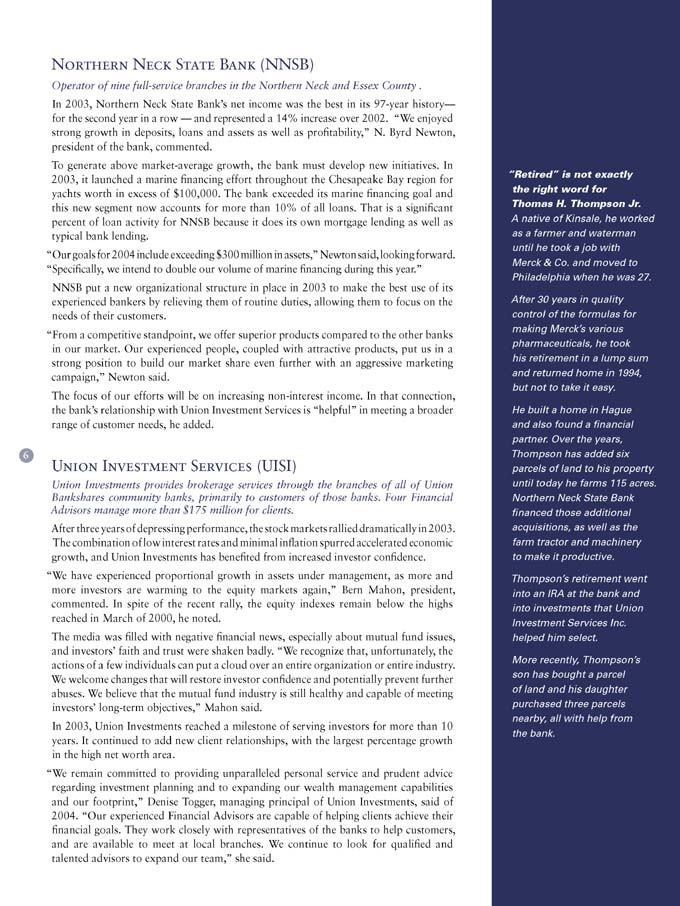 Northern Neck State Bank (NNSB)
Operator of nine full-service branches in the Northern Neck and Essex County.
In 2003, Northern Neck State Bank's net income was the best in its 97-year history — for the second year in a row — and repfresented a 14% increase over 2002. "We enjoyed strong growth in deposits, loans and assets as well as profitability," N. Byrd Newton, president of the bank, commented.
To generate above market-average growth, the bank must develop new initiatives. In 2003, it launched a marine financing effort throughout the Chesapeake region for yachts worth in excess of $100,000. The exceeded its marine financing goal and this new segment now accounts for more than 10% of all loans. That is a significant percent of loan activity for NNSB because it does its own mortgage lending as well as typical bank lending.
"Our goals for 2004 include exceeding $ 300 million in assets," Newton said, looking forward. "Specially, we intend to double our volume of marine financing during this year."
NNSB put a new organizational structure in place in 2003 to make the best use of its experienced bankers by relieving them of routine duties, allowing them to focus on the needs of their customers.
"From a competitive standpoint, we offer superior products compared to the other banks in our market. Our experienced people, coupled with attractive products, put us in a strong position to build our market share even further with an aggressive marketing campaign," Newton said.
The focus of our efforts will be on incresing non-interest income. In than connection, the bank's relationship with Union Investment services is "helpful" in meeting a broader range of customer needs, he added.
Union Investment Services (UISI)
Union Investments provides brokerage services throughout the branches of all of Union Bankshares community banks, primarily to customers of those banks. Four Financial Advisors manage more than $175 million for clients.
After three years of depressing performance, the stock markets rallied dramatically in 2003. The combination of low interest rates and minimal inflation spurred accelerated economic growth, and Union Investments has benefited from increased investor confidence.
"We have experienced proportional growth in assets under management, as more and more investors are warming to the equity markets again," Bern Mahon, president, commented. In spite of the recent rally, the equity indexes remain below the highs reached in March of 2000, he noted.
The media was filled with negative financial news, especially about mutual fund issues, and investors' faith and trust were shaken badly. "We recognized that, unfortunately, the actions of a few individuals can put a cloud over an entire organization or entity industry. We welcome changes that will restore investor confidence and potentiallity prevent further abuses. We believe that the mutual fund industryt is still healthy and capable of meeting investors' long-term objectives," Mahon said.
In 2003, Union Investments reached a milestone of serving investors for more than 10 years. It continued to add new client relationships, with the largest percentage growth in the high net worth area.
"We remain committed to providing unparalled personal service and prudent advice regarding investment planning and to expanding our wealth managemnet capabilities and our footprint," Denise Togger, managing principal of Union Investments, said of 2004. "Our experienced Financial Advisors are capable of helping clients achieve their financial goals. They work closely with representatives of the banks to help customers, and are available to meet at local branches. We continue to look for qualified and talented advisors to expand our team," she said.
"Retired" is not exactly the right word for Thomas H. Thompson Jr. A native of kinsale, he worked as a farmer and waterman until he took a job with Merck & Co. and moved to Philadelphia when he was 27.
After 30 years in quality control of the formulas for making Merck's various pharmaceuticals, he took his retirement in a lump sum and returned home in 1994, but not to take it easy.
He built a home in Hague and also found a financial partner. Over the years, Thompson has added six parcels of land to his property until today he farms 115 acres. Northern Neck State Bank financed those additiopnal acquisitions, as well as the farm tractor and machinery to make it productive.
Thompson's retirement went into an IRA at the bank and into investments that Union Investment services Inc. helped him select
More recently, Thompson's son has bought a parcel of land and his daughter purchased three parcelsnearby, all with help from the bank.
6
---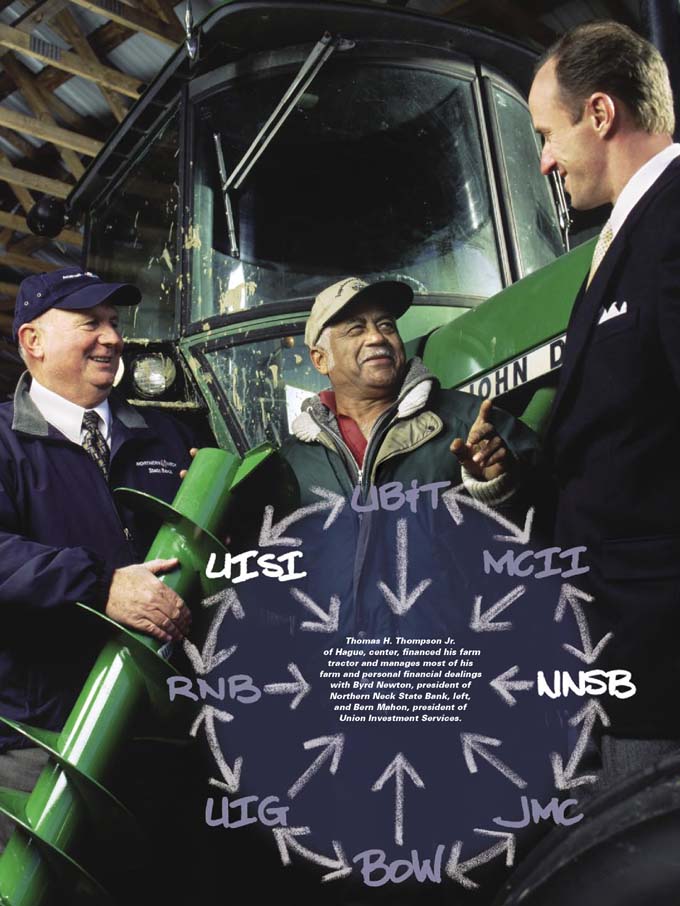 Thomas H. Thompson Jr. of Hague, center, financed his farm tractor and manages most of his farm and personal financial dealings with Byrd Newton, president of Northern Neck State Bank, left, and Bern Mahon, president of Union Investment Services.
---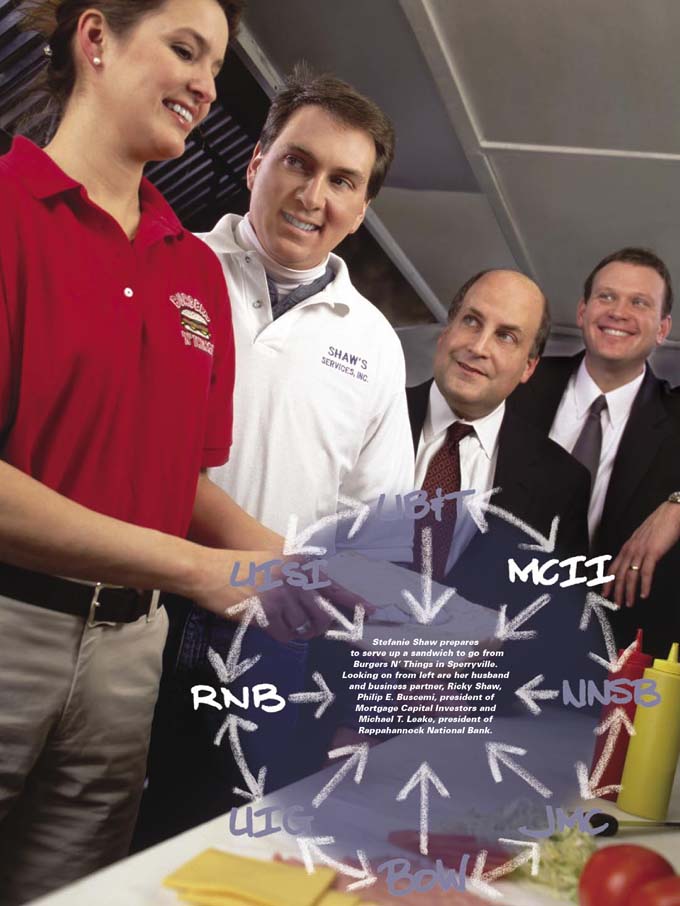 Stefanie Shaw prepares to serve up a sandwich to go from Burgers N' Things in Sperryville. Looking on from left are her husband and business partner, Ricky Shaw, Philip E. Buscemi, pesident of Mortgage Capital Investors and Michael T. Leake, president of Rappahannock National Bank.
---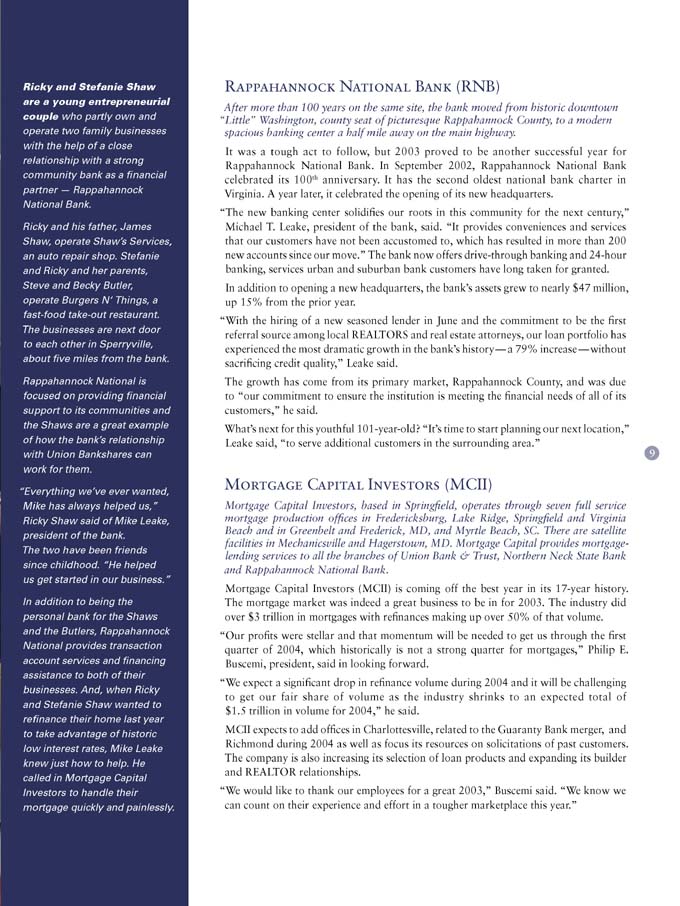 Ricky and Stefanie Shaw are a young entrenerial couple who partly own and operate two family businesses with the help of a close relationship with a strong community bank as a financial partner — Rappahannock National Bank.
Ricky and his father, James Shaw, operate Shaw's Services an auto repair shop. Stefanie and Ricky and her parents, Steve and Becky Butler operate Burgers N' Things, a fast-food take-out resturant. The businesses are next door to each other in Sperryville, about five miles from the bank.
Rappahannock National is focused on providing financial support to its communities and the Shaws are a great example of how the bank's relationship with Union bankshares can work for them.
"Everything we've ever wanted, Mike has always helped us," Ricky Shaw said of Mike Leake, president of the bank. The two have been friends since childhood "He helped us get started in our business."
In addition to being the personal bank of the shaws and the Butlers, rappahannock National provides transaction account services and financing assistance to both of their businesses. And, when Ricky and Stefanie Shaw wanted to refinance their home last year to take advantage of historic low interest rates, Mike Leake knew just how to help. He called in Mortgage Capital Investors to handle their mortgage quickly and painlessly.
Rappahannock National Bank (RNB)
After more than 100 years on the same site, the bank moved from historic downtown "Little" Washington, county seat of pictursque Rappahannock county, to a modern spacious banking center a half mile away on the main highway.
It was a tough act to follow, but 2003 proved to be aanother successful year for Rappahannock National Bank. In September 2002, Rappahannock National Bank celebrated its 100th anniversary. It has the second oldest national bank character in Virginia. A year later, it celebrated the opening of its new headquartes.
"The new banking center solidifies our roots in this community for the next century," Michael T. Leake, president of the bank, said. "it provides conviniences and services that our customers have not been accustomed to, which has resulted in more than 200 new accounts since our move." The bank now offers drive through banking and 24-hour banking, services urban and suburban bank customers have long taken for granted.
In addition to opening a new headquartes, the bank's assets grew to nearly $47 million, a up 15% from the prior year.
"With the hiring of a new seasoned lender in June and the commitment to be the forst referral source among local REALTORS and real estate attorneys, our loan portfolio has experienced the most dramatic growth in the bank's history – a 79% increase – without sacrificing credit quality," Leake said.
The growth has come from its primary market, Rappahannock County, and was due to "our commitment to ensure the institution is meeting the financial needs of alkl its customers," he said.
What's next for this youthful 101-year old? "It's time to start planning our next location," Leake said, "to serve additional customers in the surrounding area."
Mortgage Capital Investors (MCII)
Mortgage Capital Investors, based in springfield, operates through seven full service mortgage production of ces in Beach and in fredricksburg, Lake Ridge, Springfield and Virginia Beach in Greenbelt and Frederick, MD, and Myrtle Beach, SC. There are satellite facilities in Mechanicsville and Hagerstown, MD. Mortgage Capital provides mortgage-lending services to all the branches of union Bank & Trust, Northern Neck State Bank and Rappahannock National Bank.
Mortgage Capital Investors (MCII) is coming off the best year in its 17 year history. The mortgage market was indeed a great business to be in for 2003. The industry did over $3 trillion in mortgages with refinances making over 50% of that volume.
"Our profits were stellar and that momentum will be needed to get us through the first quarter of 2004, which historically is not a strong quarter for mortgages," Philip E. Buscemi, president, said in looking forward.
"We expect a significant drop in refinance volume during 2004 and it will be challenging to get our fair share of volume as industry shrinks to an expected total of $1.5 trillion in volume for 2004," he said.
MCII expects to add offices in Charlottesville, related to Guaranty Bank merger, and Richmond during 2004 as well as focus its resources on solicitations of past customers. The company is also increasing its
Selection of loan products and expanding its builder and REALTOR relationships.
"We would like to thank our employees for a great 2003," Buscemi said. "We know we can count on their experience and effort in a tougher marketplace this year."
9
---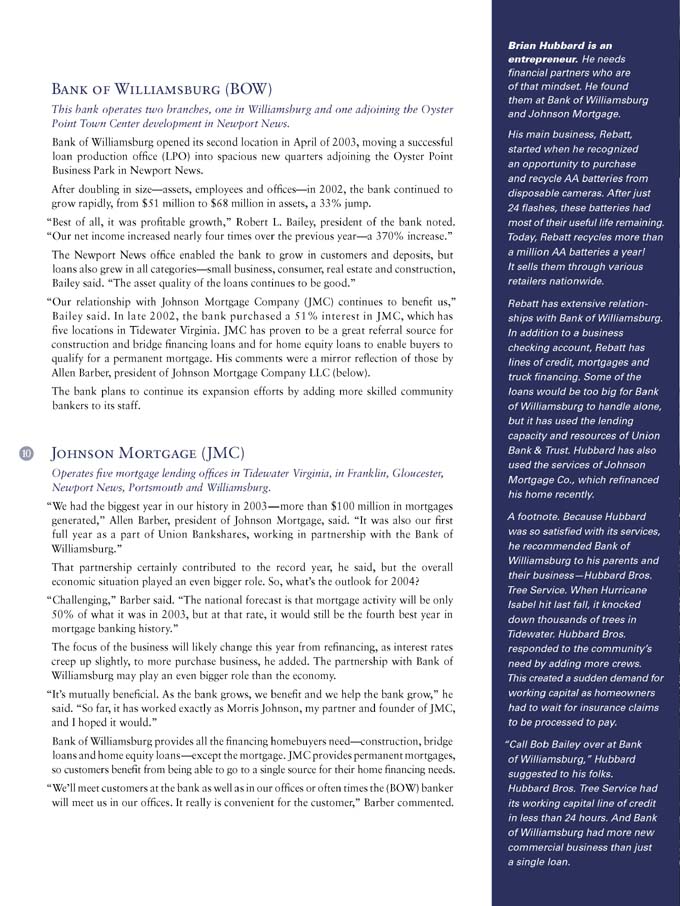 Bank of Williamsburg (BOW)
This bank operates two branches, one in Williamsburg and one adjoining the Oyster Point Town Center development in Newport News.
Bank of Williamsburg opened its second location in April of 2003, moving a successful loan production office (LPO) into spacious new quarters adjoing the Oyster point Business Park in Newport News.
After doubling in size assets, employees and offices in 2002, the bank continued to grow rapidly, from $51 million to $68 million in assets, a 33% jump.
"Best of all, it was profitable growth," Robert L. Bailey, president of the bank noted. "Our net income increased nearly four times over the previous year a 370% increase."
The Newport News office enabled the bank to grow in customers and deposits, but loans also grew in all categories small business, consumer, real estate and construction, Bailey said. "The asset quality of the loans continues to be good."
"Our relationship with Johnson Mortgage Company (JMC) comtinues to benefit us," Bailey said. In late 2002, the bank purchased a 51% interest in JMC, which has five locations in Tidewater Virginia. JMC has proven to be great referral source for construction and bridge financing loans and for home eqity loans to enable buyers to qualify for a permanent mortgage. His comments were a mirror reflection of those by Allen Barber, president of Johnson Mortgage Company LLC (below).
The bank plans to continue its expansion efforts by adding more skilled community bankers to its staff.
Johnson Mortgage (JMC)
Operates five mortgage lending offices in Tidewater Virginia, in Freanklin, Gloucester, Newport News, Portsmouth and Williamsburg
"We had the biggest year in our history 2003 more than $100 million in mortgages generated," Allen Barber, president of Johnson Mortgage, said. "it was also or first full year as a part of Union Bankshares, working in partnership with the bank of Williamsburg."
That partnership certainly contributed to the record year, he said, but the overall economic situation played an even bigger role. So, what's the outlook for 21004?
"Challenging," Barber said. "The national forecast is that mortgage activity will be only 50% of what it was in 2003, but at that rate, it will still be the fourth best year in mortgage banking history."
The focus of the business will likely change this year from refinancing, as interest rates creep up slightly, to more purchase business, he added. The partnership with the Bank of Williamsburg may play an even bigger role than the economy.
"It's mutually bene cial. As the bank grows, we benefit and we help the bank grow," he said. "So far, it has worked exactly as morris Johnson, my partner and founder of JMC, and I hoped it would."
Bank of Williamsburg provides all the financing homebuyers need construction, bridge loans and home equity loans except the mortgage. JMC provides permanent mortgages, so customers benefit from being able to go to a single source for their home financing needs.
"We'll meet customers at the bank as well as in our offices or often times the (BOW) banker will meet us in our offices. It really is convinient for the customer," Barber commented.
Brian Hubbard is entrepreneur. He needs financial partners who are of that mindset. He found them at Bank of Williamsburg and and Johnson Mortgage.
His main business, Rebatt, started when he recognized an opportunity to purchase and recycle AA batteries from disposable cameras. After just 24 flashes, these batteries hadmost of their useful life remaining. Today, Rebatt recycles more than a million AA batteries a year! It sells them through various retailers nationwide.
Rebatt has relationships with Bank of Williamsburg. In addition to a business checking account, Rebatt has lines of credit, mortgages and truck financing. Some of the loans would be too big for Bank of Williamsburg to handle alone, but it has used the lending capacity and resources of Union Bank & Trust. Hubbard has also used the services of Johnson Mortgage Co., which refinanced his home recently.
A footnote. Because Hubbard was so satisfied with its services, he recommended Bank of Williamsburg to his parents and their business-Hubbard Bros. Tree Service. When Hurricane Isabel hit last fall, it knocked down thousands of trees in Tidewater. Hubbard Bros. responded to the community's need by adding more crews. This created a sudden demand for working capital as homeowners had to wait for insurance claims to be processed to pay.
"Call Bob Bailey over at Bank of Williamsburg, "Hubbard suggested to his folks. Hubbard Bros. Tree Service had its working capital line of credit in less than 24 hours. And Bank of Williamsburg had more new commercial business than just a single loan.
10
---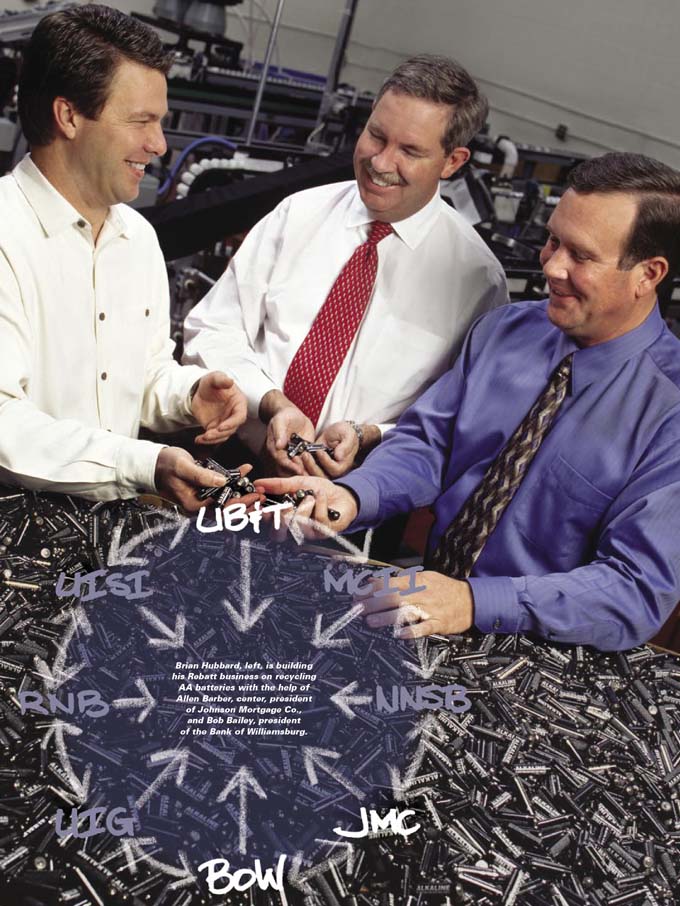 Brian Hubbard, left, is building his Rebatt business on recycling AA batteries with the help of Allen Barber, center, president of Johnson Mortgage Co., and Bob Bailey, president of the Bank of Williamsburg.
---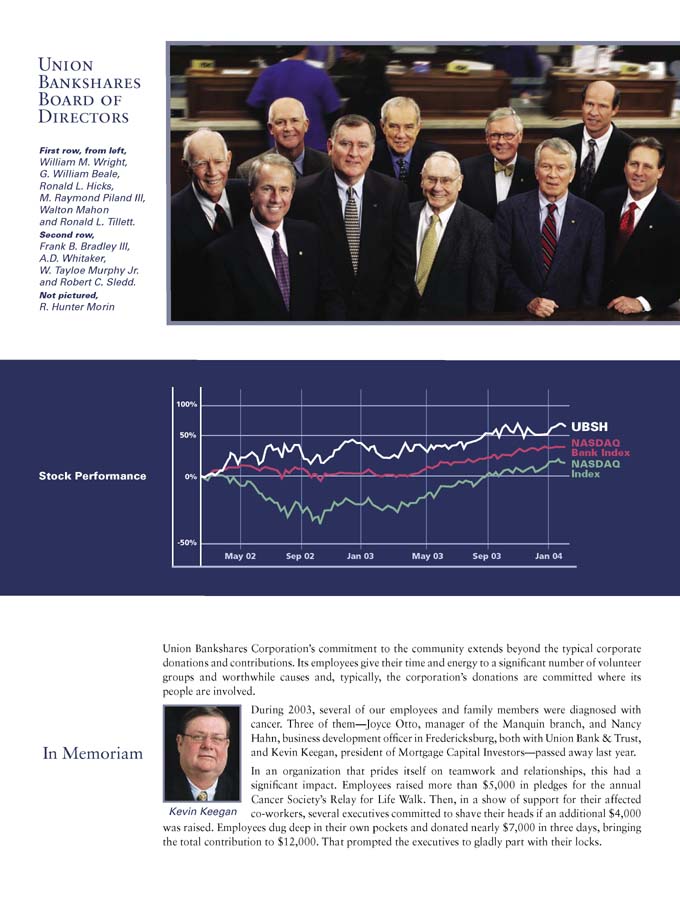 Union Bankshares Board of Directors
First row, from left, William M. Wright, G. William Beale, Ronald L. Hicks, M. Raymond Piland III, Walton Mahon and Ronald L. Tillett.
Second row, Frank B. Bradley III, A..D. Whitaker, W. Tayloe Murphy Jr. and Robert C. Sledd.
Not pictured, R. Hunter Morin
Stock Performance
UBSH
NASDAQ Bank NASDAQ Index
In Memoriam
Kevin Keegan
Union Bankshares Corporation's commitment to the community extends beyond the typical corporate donations and contributions. Its employees give their time and energy to a significant number of volunteer groups and worthwhile causes and, typically, the corporation's donations are committed where its people are involved.
During 2003, several of our employees and family members were diagnosed with cancer. Three of them-Joyce Otto, manager of the Manquin branch, and Nancy Hahn, business development officer in Fredericksburg, both with Union Bank & Trust, and Kevin Keegan, president of Mortgage Capital Investors- passed away last year.
In an organization that prides itself on teamwork and relationships, this had a significant impact. Employees raised more than $5,000 in pledges for the annual Cancer Society's Relay for Life Walk. Then, in a show of support for their affected co-workers, several executives committed to shave their heads if an additional $4,000 was raised. Employees dug deep in their own pockets and donated nearly $7,000 in three days, bringing the total contribution to $12,000. That prompted the executives to gladly part with their locks.
---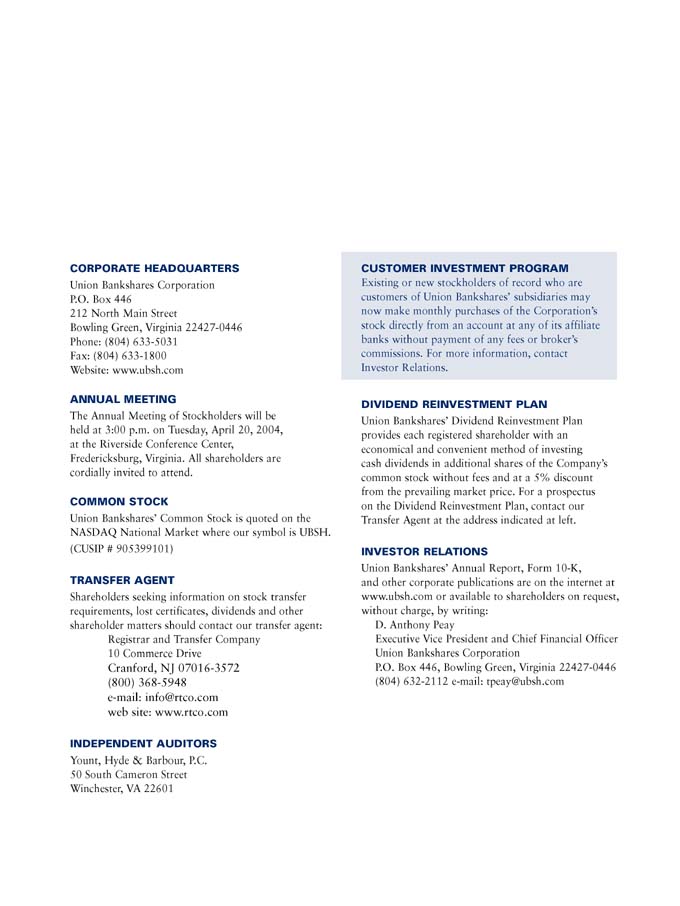 CORPORATE HEADQUARTERS
Union Bankshares Corporation
P.O. Box 446
212 North Main Street
Bowling Green, Virginia 22427-0446
Phone: (804) 633-5031
Fax: (804) 633-1800
Website: www.ubsh.com
ANNUAL MEETING
The Annual Meeting of Stockholders will be held at 3:00 p.m. on Tuesday, April 20, 2004, at the Riverside Conference Center, Fredericksburg, Virginia. All shareholders are cordially invited to attend.
COMMON STOCK
Union Bankshares' Common Stock is quoted on the NASDAQ National Market where our symbol is UBSH. (CUSIP # 905399101)
TRANSFER AGENT
Shareholders seeking information on stock transfer requirements, lost certificates, dividends and other shareholder matters should contact our transfer agent:
Registrar and Transfer Company
10 Commerce Drive
Cranford, NJ 07016-3572
(800) 368-5948
e-mail: info@rtco.com
web site: www.rtco.com
INDEPENDENT AUDITORS
Yount, Hyde & Barbour, P.C.
50 South Cameron Street
Winchester, VA 22601
CUSTOMER INVESTMENT PROGRAM
Existing or new stockholders of record who are customers of Union Bankshares'subsidiaries may now make monthly purchases of the Corporation's stock directly from an account at any of its affiliate banks without payment of any fees or broker's commissions. For more information, contact Investor Relations.
DIVIDEND REINVESTMENT PLAN
Union Bankshares' Dividend Reinvestment Plan provides each registered shareholder with an economical and convenient method of investing cash dividends in additional shares of the Company's common stock without fees and at a 5% discount from the prevailing market price. For a prospectus on the Dividend Reinvestment Plan, contact our Transfer Agent at the address indicated at left.
INVESTOR RELATIONS
Union Bankshares' Annual Report, Form 10-K, and other corporate publications are on the internet at www.ubsh.com or available to shaeholders on request, without charge, by writing:
D. Anthony Peay
Executive Vice President and Chief Financial Officer
Union Bankshares Corporation
P.O. Box 446,
Bowling Green, Virginia 22427-0446
(804) 632-2112 e-mail:tpeay@ubsh.com
---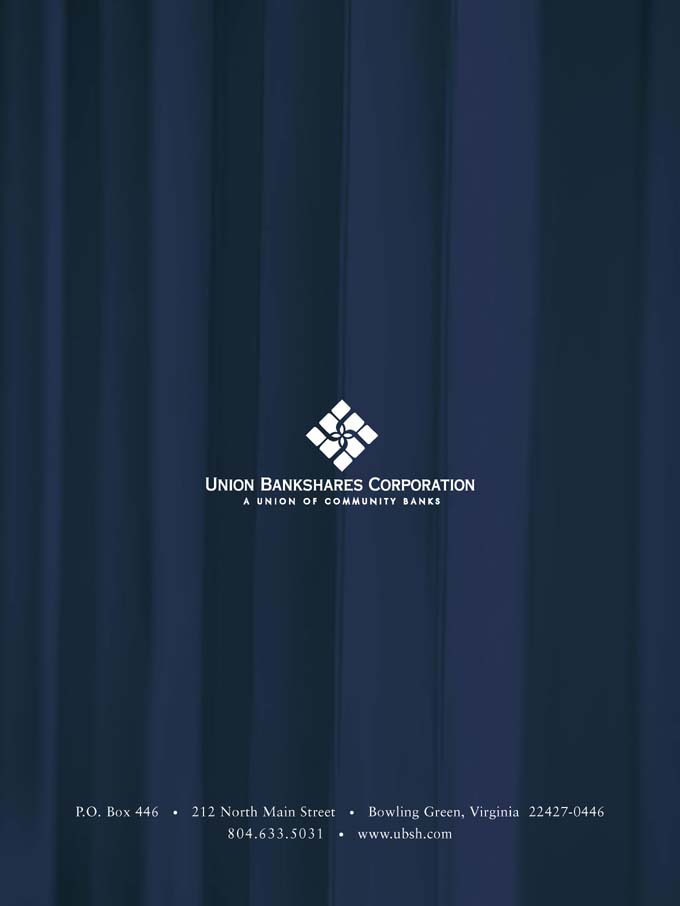 UNION BANKSHARES CORPORATION
A UNION OF COMMUNITY BANKS
P.O. Box 446 212 North Main 446 Bowling Green, Virginia 22427-0446
804.633.5031 www.ubsh.com